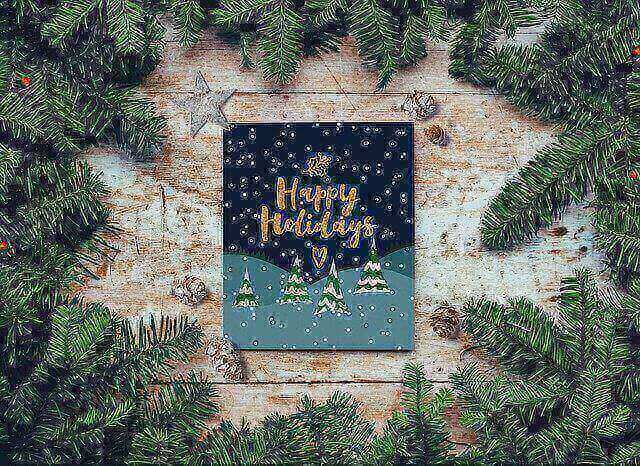 Producing handmade cards is not only therapeutic but is a form of self-expression as new techniques are learned – and the process of designing and making brings a sense of achievement.
Christmas is the perfect time of year to develop your skills and discover the world of Christmas card printing. You'll need to understand about the card sizes and formats you can choose from. What is the standard size of a Christmas card? Read on to find out more…
Card sizes and formats
The classic format
This standard Christmas size card measures 12.7cm x 17.78 cm and comes in a flat or folded format to let you include a message inside. The flat format option allows you to choose a whole variety of colours and texts – as well as photos that can be added to suit your theme. Luxury formats cover foil-pressed and velum cards achieved by using inspiring printing techniques. Seasonal colours of red, silver, and gold provide stunning design effects.
This is the most popular greeting card size and matches an A7 envelope size.
The petit format
This design is slightly smaller than the classic card measuring 10.79cm x 15.24cm. There's still plenty of room for customisation whether you choose the folded or flat format. You can colour co-ordinate envelopes with your cards and use different layout options to make the best use of space.
The postcard format
Measuring the same size as the petit – this is the standard postcard size and is a more cost-effective option. The front and back of the 10.79cm x 15.24cm postcard can be customised with a range of colours and texts, and can be posted without an envelope! Just remember that on the back of the card approximately half will be used for address and postage information.
The half-fold format
Card dimensions of 13.97cm x 21.59cm are typically called half folds and are another size option allowing you to choose a size that suits your needs. This card matches the A9 sized envelope.
The grand format
15.24cm x 20.32cm is the size of the grand card and is the ideal option when you wish to add a longer message and include more photos. You can really tell a story when using a card of this impressive size.
The booklet format
This keepsake format offers six pages, within the 10.79cm x 13.97cm card size, that provide you with the opportunity to share life events that have happened during the course of the year. Moving house, retirement, new baby, all produced in a variety of layouts and formats to show off these pleasures.
Card planning
Now you know the range of card sizes available you'll want to make a start on your holiday project. Preparation is the key to ensuring your cards will be ready to post for around December 4th. See a step-by-step guide to help:
Take photos in advance – at home or outdoor photoshoots are easily taken on your phone or camera. Use landscape or portrait styles so that you've got plenty of options.
Pay attention to details – colour co-ordinating provides a unified look and adding extras such as jewellery and colourful accessories create a photo that's been taken with love and thought.
Make your cards – easy to use online sites will let you add your family portraits, choose the perfect colour schemes, and add your customised greetings. It's a nice idea to make extra ones to keep for someone you may have forgotten and one for yourself as a reminder of the cards you created this year.
Add addresses – look for website features that let you create a mailing list and keep them for future use.
Enhance your Christmas envelope design
After you've decided on the size and style of your card you can focus on ways to make the envelope stand out from the crowd! You could:
Seal your envelope closed with adhesive labels that wrap around the envelope corner and can be personalised with texts and designs
Use a wax seal – remove the adhesive covering on the back of the seal and press it onto the envelope
Have an address printed on the envelopes at the same time as professional printing Christmas cards are done for you
Insert a decorative liner that matches the look of your card to reveal a metallic or patterned foil inner
Opt for seasonal colours of silver, emerald, rose, or ruby to add a splash of colour instead of traditional white
Use printing specialists
Why not consider getting an expert to print Christmas cards for you? Christmas card printing Australia professionals will use the latest in digital printing technology to ensure your designs are printed out immaculately. Cardmakers will use entire sheets cutting once to create two card bases which is most cost-effective. And you'll get all the help and advice you need from graphic design experts, using the right card and finishing to guarantee your Christmas cards this year will be truly amazing.