Whether you're a new small business or a well-established brand, there's always scope to grow your company with effective print marketing. Printing booklets, books and catalogues are an inexpensive way of reaching new customers and extending the reach of your business. And, as digital advertising gets more and more expensive – print marketing just gets more affordable.
There will always be a demand for real, tangible marketing materials. Information your customers can touch as well as see, such as in a high-quality book print, can create a much stronger impression than a screen – and gives your brand the scope to add a personal touch.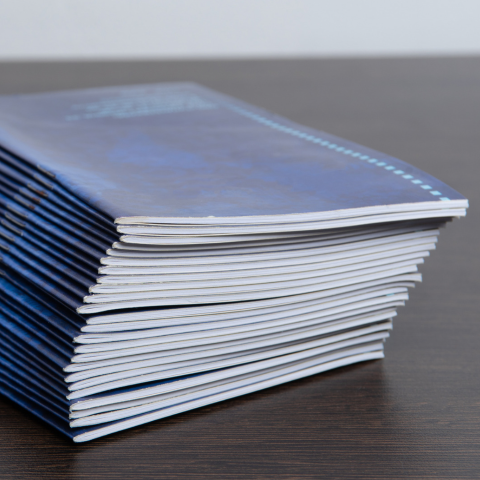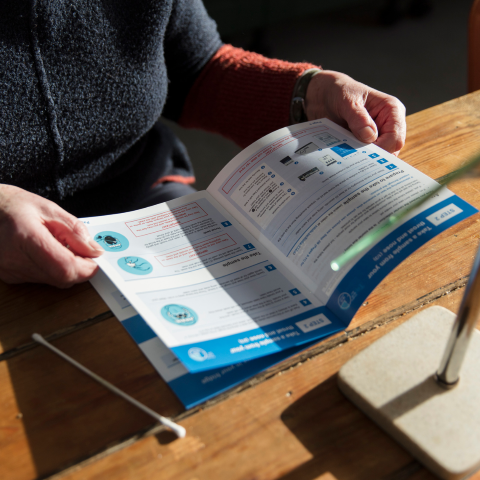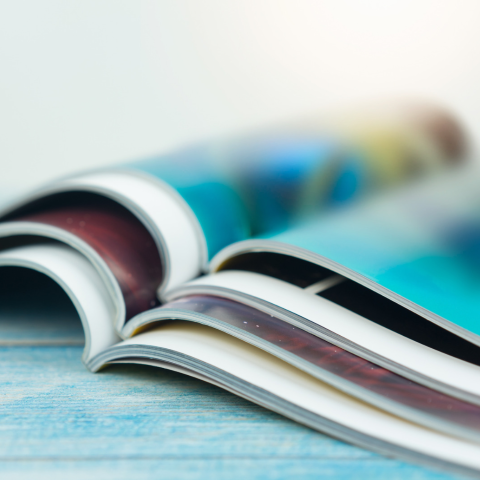 Books, booklets & brochures
When you print a book or booklet, you are essentially producing a collection of papers that come together. They might be folded over or bound, with a range of binding options including saddle-stitching.
Printed booklets are sometimes called brochures, pocket books or business books. A booklet is a smaller, more compact version of a book, while brochures are single pages. Yes, this means a multi-page brochure is technically a booklet!
Types of books you can print
There are endless applications for book printing services. For example, a local business may publish a printed booklet to advertise a complex new product, or a niche service that requires a fair amount of consumer education. This could be printed and produced in a range of styles, from a simple wire binding to a perfect-bound paperback book.
You can print black and white or full-colour, with applications including but not limited to:
Product guides
Training manuals
Position description workbooks
Invoice and receipt books
Your book could be used for internal or external marketing purposes, to add value to a product or event, for VIPs, or as an incentive to subscribe to a higher tier of service. Like banners, business cards and other printed marketing, books have a massive potential for creativity and engagement.
Choosing a book or booklet printer
The best type of book to print, and who you'd like to print it, will depend on the information you'd like to convey. Here are a few top-level considerations:
What is the primary purpose of the marketing material? What do you want people to do?

What type of audience are you targeting? Is it B2B or B2C? Do they already know about your brand, or is it more of a cold outreach?

What's the budget for this campaign?
From there, you'll need to think about the book printing itself. What kind of aesthetic best represents your brand? This will influence the design, materials and binding choice. 
Consider the scope of the print run, the expected volume of printed collateral you're after, and whether you'll need the help of professional designers to put your book together.
With a range of paper styles, cardstocks and finishes available, it's good to get a feel for the different types so you can see which format best represents your brand – and which is going to help you make the best impression. 
There's a lot to keep in mind when printing books and booklets. Luckily, MBE has been doing this since 1993, and we're here to help.
Why choose MBE for your book printing?
Our job is to make your book printing project as easy as possible. We'll help you produce and design a book that perfectly suits your needs, no matter if it's a guide showcasing your range of products to procurement teams, or a comprehensive training manual that ensures your workers are educated to the highest level.
Our graphic design team and branding consultants are experts in elevating brand identities and making your offers the best they can be. 
For printing booklets, flyers, labels, large format prints and more, MBE is your trusted local professional. And, with our comprehensive courier and freight services, delivery is hassle-free.