Privacy & Confidentiality
MAIL BOXES ETC. (AUSTRALIA) PTY LIMITED PRIVACY POLICY
Protecting your privacy
This privacy statement provides information about the personal information that we collect, and the ways in which we use that personal information.
Your privacy is important to us. We comply with the Privacy Act 1988 (Privacy Act) when we handle personal information. The Privacy Act contains 13 Australian Privacy Principles (APPs) which provide the rules for how we must handle your personal information, including how you can request access to, and correction of, that information. Detailed information on the Privacy Act and the APPs can be found on the website of the Office of the Australian Information Commissioner (OAIC).
We will only use or disclose personal information we hold about you in accordance with this Privacy Policy or as otherwise notified to you
Meaning of words
In this Privacy Policy:
we, us and our refer to Mail Boxes Etc. (Australia) Pty Limited ABN 20 058 292 774 ("MBE Australia"), franchisees and businesses authorised by MBE Australia to operate under the name MBE and Mail Boxes Etc and any related bodies corporate of MBE Australia to which it says that this Privacy Policy applies;
related body corporate has the meaning given in the Corporations Act 2001 (Cth); and
the singular includes the plural and vice versa.
Your personal information
"Personal information" is information about an individual who is either identified in the information or their identity can be ascertainable from it. It includes information and opinions obtained from the individual themself or from a third party.
Personal information held by us includes your name, address and occupation, your telephone or mobile phone numbers and email address and bank account or credit card details through which payment will be made and any username or password for any online account you may open with us.
How we use your personal information
We do not ordinarily collect any information about you except where you provide it to us, or it is provided to us with your consent. In general, we do not use or disclose personal information collected about you other than for:
a purpose set out in this Privacy Policy;
a purpose you would reasonably expect;
a purpose required or permitted by law; or
a purpose otherwise disclosed to you or for which you have consented.
Your personal information may be used to:
verify your identity;
price and design our products and services;
assist you to subscribe to our products and services;
provide the products and services you require;
manage our relationship with you;
administer, improve and manage our products and services, including charging, billing and collecting debts;
conduct appropriate checks for credit-worthiness and for fraud;
research and develop our services;
gain an understanding of your needs in order for us to provide you with a better service and products; and
maintain and develop our business systems and infrastructure.
Disclosures of personal information
We may exchange your information with our related bodies corporate, franchisees and master franchisor, so that we may adopt an integrated approach to our customers. We and our related bodies corporate, franchisees and master franchisor may use this information for any of the purposes mentioned in section 4.
We may also disclose personal information about you, as appropriate, to:
our employees, assignees, agents, contractors and external advisers;
organisations which verify your identity;
your agents, advisers, referees, executor, administrator, trustee, the beneficiary of any trust of which you are a trustee, your guardian, attorney or franchisor;
law enforcement, regulatory and government bodies;
anyone who introduces you to us;
your and our auditors, insurers or prospective insurers and their underwriters;
any person we consider necessary to execute your instructions; and
other organisations (and their agents) with whom we have arrangements for the supply and marketing of our respective products and services, unless you 'opt out' of marketing (see below).
From time to time we may send your information overseas, including to overseas service providers or other third parties who operate or hold data outside Australia. Where we do this, we make sure that appropriate data handling and security arrangements are in place. Please note that Australian law may not apply to some of these entities.
Credit checks and credit reporting
When you apply to us for credit we need to know if you are able to meet repayments under your agreement with us. We also want to avoid giving you further credit if this would put you in financial difficulty. One of our checks may involve obtaining a credit report about you.
A credit report contains information about your credit history. Credit reporting bodies collect and exchange this information with credit providers and other service providers.
The Privacy Act limits the information that credit providers can disclose about you to credit reporting bodies, as well as the ways in which credit providers can use credit reports.
The information we can exchange includes your identification details, any applications for credit you have made, any significant default we have notified you of and whether you have committed a serious credit infringement (such as fraud). We also ask credit reporting bodies to provide us with an overall assessment score of your creditworthiness.
We use information from credit reporting bodies to confirm your identity, assess applications for credit, manage our relationship with you and collect overdue payments. We may also use this information as part of arriving at our own internal assessment of your creditworthiness. We store credit-related information with your other information.
Credit providers may ask credit reporting bodies to use their credit-related information to pre- screen you for direct marketing. You can ask a credit reporting body not to do this. Also, if you have been, or have reason to believe that you're likely to become, a victim of fraud (including identity fraud), you can ask the credit reporting body not to use or disclose the credit-related information it holds about you.
Marketing 'opt out'
If at any time you do not wish to receive further marketing information, you may ask us not to send you any further information about services and not to disclose your information to other organisations for that purpose. You may do this by contacting us at [email protected].
Personal information about third parties
If you give us personal information about another person, you represent that you are authorised to do so and you agree to inform that person who we are, that we will use and disclose their personal information and that they may access any personal information we hold about them. You should also refer them to this Privacy Policy which applies to their personal information.
Maintaining the accuracy of your information
We take all reasonable precautions to ensure that the personal information we collect, use and disclose is accurate, complete and up-to-date.
If you believe that personal information that we hold about you is inaccurate, incomplete or out of date, please contact us at [email protected] and we will take all reasonable steps to correct the information.
Accessing your personal information
You have a right to access your personal information, subject to some exceptions allowed by law. If you would like to do so, please let us know by contacting us at [email protected]. You may be required to put your request in writing for security reasons. We may also charge a fee for giving you access to your personal information and will try to deal with your request within a reasonable time.
Security & the internet
We maintain strict procedures and standards and take all reasonable steps to prevent unauthorised access to, or unauthorised modification or disclosure of, your personal information and to protect it from misuse or loss.
However, we do not guarantee that information sent over the internet is secure.
Cookies on our website
We may use 'cookies' on our website. A cookie is an industry standard and is a small text file that our website may place on your computer. Usually, cookies are used as a means for our website to remember your preferences. As such, cookies are designed to improve your experience of our website.
Cookies may collect and store personal information about you. We extend the same privacy protection to your personal information, whether gathered via cookies or from other sources. You can adjust your Internet browser to disable cookies or to warn you when cookies are being used.
Changes to this Privacy Policy
This statement sets out our current Privacy Policy. It replaces any other Privacy Policy which we have previously issued.
We may amend this Privacy Policy at any time. Our current Privacy Policy is available from our website www.mbe.com.au or by contacting us at [email protected].
We suggest you periodically review our Privacy Policy for any changes.
Contacting us
If you have any questions regarding this Privacy Policy please contact us at [email protected].
Our trained team members provide expert consultation for every element of your project, including design, copying, printing, digital archiving, finishing, mailing services, oversized printing and promotional items.
MBE's core purpose is to help small and medium size businesses scale faster by tapping into outsourced marketing, logistics and operational services. With an MBE business service centre as your partner you can: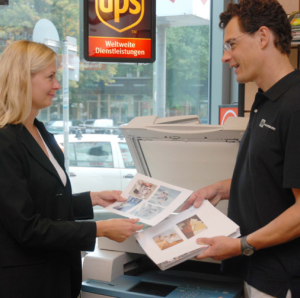 Want to become an MBE Franchisee?
MBE is one of the fastest-growing franchise chains in Australia and the world. With over 40 stores around Australia, MBE offers continuous business and marketing support to its franchisees. If you want to invest in a business that will provide you with support and training along with the reputation of an international brand, look no further.