When you have a lot of information to convey and want to do it in a sleek, premium way, booklet printing is your answer. 
Essentially, a booklet is a set of stapled or glued sheets of paper that is printed on both sides. Booklets are great promotional and advertising tools for businesses of all types and sizes. More detailed than a brochure but not quite a book, booklets are economical and easy to handle. You might use one as a product guide, or to highlight the benefits of a service.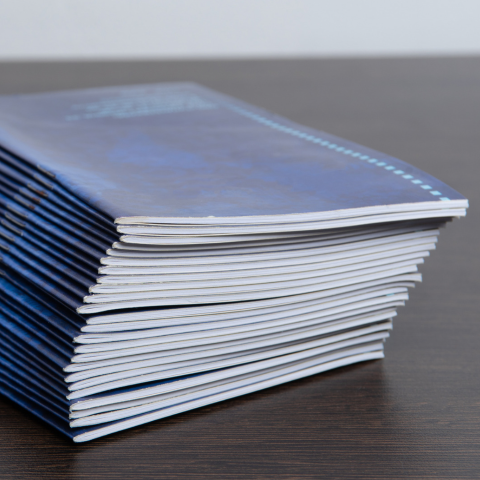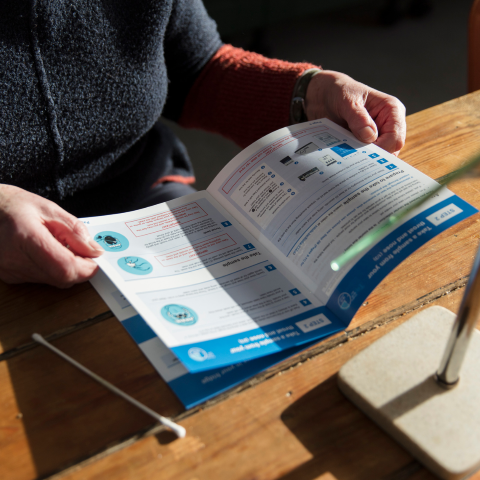 Many people confuse multi-page brochures with booklets, and it's easy to see why. However, brochures are typically folded, whereas booklets are bound in a variety of ways, such as case binding, spiral binding, perfect binding, and saddle-stitched binding.
is a popular choice and provides a cost-effective and reliable binding method. It works by stacking and folding the pages, usually on a conveyor, before stapling them together. These booklets are easy to make and durable, since the pages are stitched together along the spine, and the covers are typically made with thicker paper. 
Saddle-stitch printing is common in limited print runs, trade show handouts and other short-term projects. Though affordable, saddle-stitched booklets can be printed in high quality and make a lasting impression.
Other popular binding options include perfect-binding, where booklets are stitched together along the spine and the cover for a seamless, durable printing solution, while wire-o (also known as spiral binding) booklets are held together with wire fed through a series of small loops, like the type you'd normally find at a school or university.
There are all kinds of applications for booklet printing. If you've got a product to sell, a guide, or a special offer, you can use a booklet to get your message out there. If you're hosting an event, you can use a booklet to provide attendees with information about the event and how to prepare for it. If you're creating internal communications, such as an employee handbook, HR information or FAQs, a booklet can be a neat and visually impressive way of conveying this information.
Before you decide to print a booklet, there are a few things you should keep in mind:
Consider the types of binding and how they fit into your design and budget

Make sure the pages have sufficient bleed and gutter areas to account for the binding – nothing worse than having your information cut off!

Only use high-res images, because not even the highest quality printer can fix a low-quality image.

Gain an understanding of the different types of paper and how they look and feel.
Choosing a booklet printer
With more content, more pages and additional considerations like binding, booklet printing can be a higher stakes game than simple flyer printing. You're going to want to make sure your design and information is going to be just as readable and eye-catching in the printed form as it is on the screen.
So, when finding a booklet printer, make sure they have a proven track record of quality print work, they have the technical capabilities to produce and bind a booklet in your desired style, and they have the scope to print at scale with a swift turnaround time.
If designing a print-ready booklet sounds too daunting, look for a team that can help you with every aspect, from design and colour selection to paper weight and type.  
That's just a small fraction of what we offer at MBE.
Why choose MBE for your booklet printing?
As Australia's trusted print experts since 1993, we can produce and design you a high-quality booklet for whatever purpose you need, whether it's an eye-catching marketing tool to capture leads or something as simple as a receipt booklet. 
With stores across Australia and a massive range of in-house services, we pride ourselves on efficiency, so you can rest assured your job is delivered by our couriers on time, and above expectations.