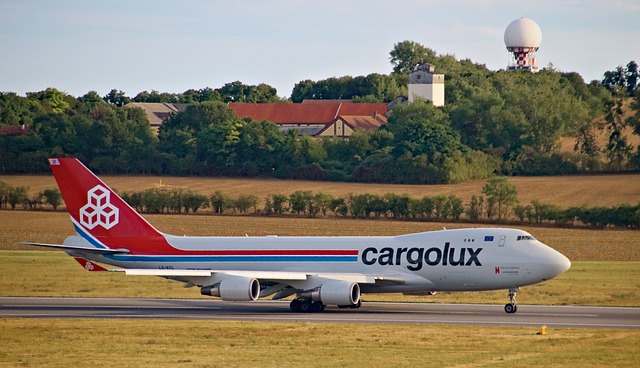 What is air freight? In basic terms, air freight is the shipment of goods via an air carrier. This could be a chartered or commercial flight. It's a valued way of transporting cargo to almost anywhere in the world.
Goods transported in this way have many benefits including the high speed of the delivery, top levels of security, and is perfect for items that require special handling and management. Find out more about air freight shipping and air freight services here…
A little history
The first cargo flight took place in November 1910 in the USA – carrying a package for a store opening. This was the first cargo-only flight solely for the transportation of goods. In the early 1920s air cargo developed at a rapid pace as it was realised that aircraft could move consignments much faster than by train or boat.
In 1945 the International Air Transport Association was formed and air freight traffic developed modestly until the 1990s when it emerged as a solid standard for the industry. With the rise of internet reliability and accessibility were increased with airlines being able to offer real-time status of flights and shipping booking and tracking options.
Today's air cargo continues to increase with strong demand – mainly due to industrial production and global trade. The industry continues to adopt electronic procedures such as the air waybill to help reduce paperwork accompanying each shipment, and increasing the security and safety of transportation.
The advantages of air freight
Using air freight gives you the option of same-day delivery as packages get picked up immediately after booking and put on the next flight to the requested destination. You can designate both the pick-up and delivery times.
Air freight is charged based on weight which makes it a cost-effective way to send smaller deliveries. And there are more shipping options available such as consols and direct routes.
Airports have a high level of security making the shipment less vulnerable, and the nonstop flight ensures goods arrive safely and undamaged. This also makes air cargo much easier to track as air delivery schedules are accurate and regulated. Most air freight companies will provide a tracking number that can be used to monitor the progress of your shipment.
Air cargo
Air cargo is defined as any goods carried in an aircraft. The types of air cargo include air freight, air express, and airmail used to transport textiles, retail and consumer goods, machinery, electronics, and hardware. Heavyweight and temperature-controlled goods can also be shipped with confidence.
Bear in mind that lithium batteries can't be shipped on passenger planes, but are allowed on cargo planes. Cargo planes are also ideal for large and heavy shipments, and passenger planes are perfect for transporting parcels.
Most flammable liquids or solids aren't allowed on air freight, alongside toxic substances, corrosives, or biochemicals. Items with a strong magnetic pull won't be accepted as they can affect the instruments on the plane.
Depending on the goods needing to be transported a choice of aircraft will be made from:
Cargo aircraft – designed specifically for the job carrying freight on the main deck and in the belly by nose or sideloading
Passenger aircraft – using excess space in the baggage hold that's not being used for passenger luggage, or in the passenger cabin as hand-held by an on-board courier
Integrated express carriers – these carriers will transport the shipment from the door of the pickup location to the door of the drop off destination
Combi aircraft – carrying cargo on part of the main deck and in the belly by sideloading
Using a freight forwarder
A freight forwarder helps with transporting goods from one place to another using the most cost-effective methods to ensure the journey is hassle-free. They have multiple contacts within the industry covering sea, air, and road transportation., and are experts in putting into place the logistics and arrangements needed.
They are an invaluable asset when it comes to international air freight as they can save your business both time and money. And they take care of all of the paperwork involved when you trade globally. Look at a list of details a freight forwarder will do for you:
Warehousing
Booking space for cargo
Negotiating charges for freight
Organising freight links
Arranging cargo insurance
Preparing shipping and export documents
Tracking inland transportation
Filing any potential insurance claims
Airfreight Australia, for example, will provide you with a fast and economical way of sending goods overseas. Partnerships with top freight companies operating throughout the country will secure the most affordable shipping strategy. Express international freight delivery options guarantee that a time-sensitive delivery always meets your needs.
Using a trusted freight forwarder will ensure your shipment gets to where it needs to go safely and in a timely manner. Air transportation charges are determined by the option you choose with transit rates increasing for urgent freight.