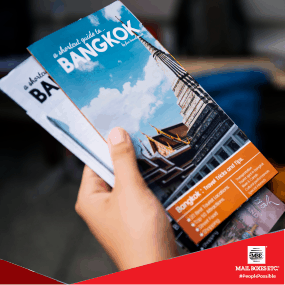 What is a flyer? A flyer is a type of paper advertisement typically posted or distributed in a public place. It can be sent through the post or handed out and can be used by anyone from individuals, small businesses, and even governments to advertise, promote, or recruit.
Flyers are a low-cost way to market and communicate as they only require basic printing techniques. Find out more about the various meaning, types, and sizes of flyers here…
Flyer Usage
Flyers can be used to:
Advertise events such as festivals, rallies, and music concerts
Promote businesses and their services like restaurants, nail parlours, and discount stores
Persuade people to vote for a certain political party or become involved in campaigns
Recruit new members for companies, organisations, or charities
Flyer Meaning
A flyer is generally a single unfolded printed sheet containing a simple message that's easy to understand. They can have printing on one or both sides. Response flyers are intended to answer inquiries and details of a business brand – used in-store for prospective customers before purchase.
Direct mail flyers are used to inform potential customers about new products or additional features of a business – creating a brand image for the receivers. Flyers are effective marketing tools directing and giving instructions for advantage to be taken of compelling offers.
Flyer delivery is popular as one of the most effective ways to advertise your business as distribution promotes your services by reaching potential customers and getting your message across. Flyers are often extremely quick to return results as customer response tends to be very high. Hand picking your target audiences using in-depth market research adds to the effectiveness of the strategy.
Flyer Marketing
Flyer marketing is a wonderful choice for businesses that are looking for new customers especially locally. It's one of the most affordable ways of advertising and communicating with both new and existing customers. Through flyer marketing and flyer distribution, you can effectively captivate your targeted audience and create customer interest in a personal and tangible way.
Flyer drops help companies to maximise their product reaching out to thousands of potential new customers with a competitive cost per piece. Specific geographical areas can be easily targeted that get strong results – and a great return on any sizedinvestment.
Flyer Types
Types of flyer include:
Concept marketing – business flyers are one of the marketing tools used to attract new customers, announce special promotions and stimulate interest
Handbills – printed on ordinary paper with a small amount of text – perfect for mass distribution inside newspapers for example. The purpose of these flyers is to raise awareness of new event openings or provide discount coupons
Hanging marketing flyers – flyers printed with a hole and space to slide onto door handles in business complexes and shopping areas
Leaflets – small advertisements in the form of a single-fold paper that can be placed through doors, on car windscreens, and in mailboxes
Posters– these are larger flyers specifically designed to be put up on walls or other vertical surfaces. The captivating graphic displays advertise and promote events, films, or give information
Pamphlets – these flyers are loose sheets that are perfect for distributing to as many individuals or bringing to events. These are often folded and printed on glossy paper as a cheap way to advertise your services in detail.
Flyer Sizes in Detail
Flyer sizes come in four basic dimensions:
A4 – this is a typical printing page size that you would use at home or in the office
A5 – a flyer the size of an A4 page folded in half
A6 – a flyer the size of an A4 page folded in half and then half again
DL – a slim flyer ⅓ the size of an A4 page
Trifold Brochure – this is an A4 page folded into thirds
Actual dimensions
A4 – 210 x 297mm + 3mm bleed
A5 –148 x 210mm + 3mm bleed
A6 – 105 x 148mm +3mm bleed
DL – 99 x 210mm + 3mm bleed
Trifold Brochure – 210 x 297mm + 3mm bleed + Fold Allowance
Some printers may offer an A7 size which is 74 x 105mm and A3 420mm x 297mm.
The bleed is printing that goes beyond the edge of where the sheet will be trimmed – the area to be trimmed off. This gives the printer a small amount of space to account for the movement of the paper and any design inconsistencies. It's very important to make sure your design prints well.
Flyer Printing
Print flyers professionally by getting in touch with a trusted printing service. You'll get the latest in digital printing technology with the advantage of experienced graphic designers ready to assist at any time. And there's always a quick turnaround time for your flyers so they'll be ready to distribute fast.
Suitable printers will be available for any kind of flyer communication and these include digital printing that's ideal when your business needs to balance cost-effectiveness and quality. A professional flyer printing expert will help to produce a design that's informative – with the full-colour commercial print finish providing real definition to images, graphics, and text.
There'll be an entire range of materials and finishing options to choose from with high grade finishing techniques for a professional look. Get easy access to flyer printing expertise from your local MBE specialists.