Decal Vinyl Printing: Easy with MBE
Decal vinyl printing with MBE delivers a premium product ideal for helping your brand and business stand out.
Our digital vinyl sticker and decal printing, including vinyl lettering, is also perfect for personal use. Add some colour to your bedroom wall, print label stickers for home, school or work, or create a fun bumper sticker for friends and family.
As a leading vinyl sticker printer, we use the latest digital printing equipment to ensure a quality product for indoor and outdoor use. There's no minimum order, we offer fast turnaround times and can even deliver to you.
If you need help creating quality vinyl stickers, our graphic design team will ensure your vision comes to life! Our national business centres are open Monday to Friday.
Want to know what sticker printing costs?
Contact your local MBE business centre now and ask about our vinyl sticker printing services.
MBE. Vinyl Sticker Printing Made Easy.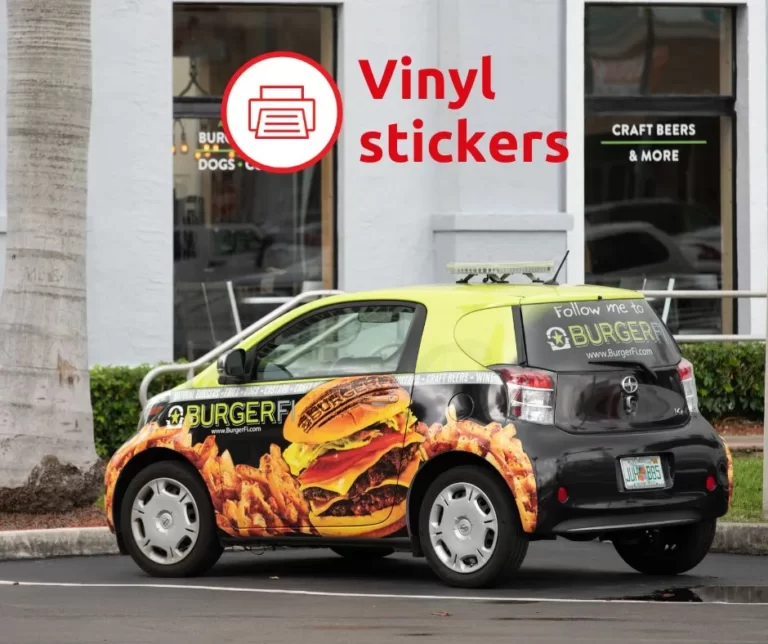 Common Printed Vinyl Stickers
Vinyl stickers and decals are incredibly versatile, are ideal for both practical and promotional uses, and can be tailored to your specific needs.
What are the most common printed vinyl stickers?
bumper stickers – highly durable weatherproof, UV protected stickers designed for the outdoors. Usually placed on cars and other vehicles.
adhesive vinyl lettering – perfect for advertising your name or phone number on your work vehicle or communicating that your boat, or caravan is for sale.
transparent (clear) vinyl stickers – for when you need to see through them! Often used on glass or plastic packaging such as bottles and jars and great for branding on machinery, cars, trucks and windows.
custom window decals – great for corporate logos and names, can be printed horizontal or vertical and ideal for imagery too.
floor decals & signs – made of non-slip vinyl, they're great social distancing, crowd and traffic markers or a fun way to spruce up your drab flooring.
custom die cut – when a personalised shape is what you need to stand out, MBE can deliver with our custom die cut vinyl sticker options.
product labels – we stock label sheets which are a great low cost sticker solution
Vinyl Stickers: A Go-To Marketing Tool
Got a sale coming up? Why not arrange some funky vinyl decal lettering for your boutique windows to draw in customers?
Need to tell your clients about new opening hours or a new team member? Vinyl sticker signage is simple to use, fully customisable, and cost effective, so ask us about all your indoor and outdoor needs.
MBE offers full and single colour vinyl decal stickers and use high quality inks and materials.
Need every sticker individualised with a unique name, number or image? Ask us how.
Designing a sticker that delivers maximum impact and complements your other corporate branding is what we do best at MBE, thanks to our experienced graphic design team.
MBE. Your expert vinyl sticker printer & designer.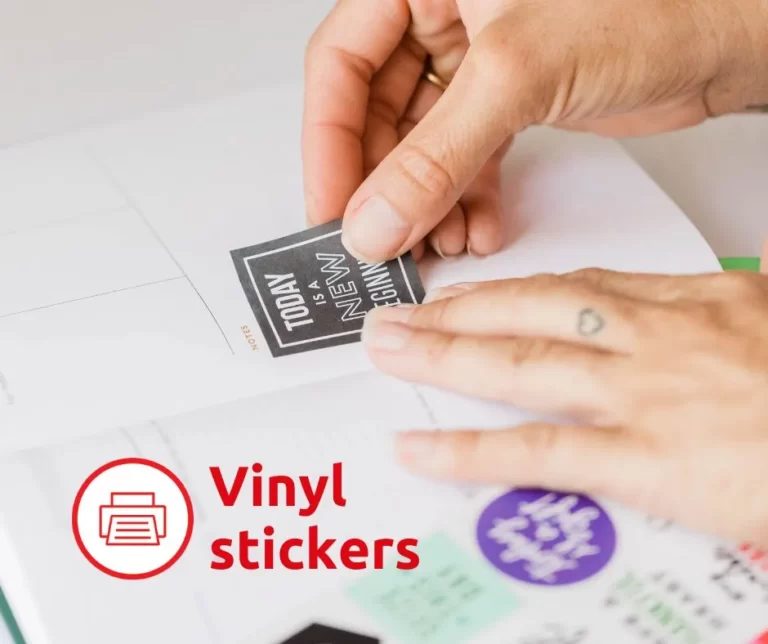 The Nitty Gritty of Vinyl Stickers
Printing and cutting vinyl stickers is more complicated than you might think but, whatever you need, MBE can deliver, thanks to our specialised technology.
We offer:
transparent vinyl glossy stickers (great for cards and windows)
white PVC glossy stickers (for an ultra-vibrant look)
white PVC matte stickers (for when you need less lustre)
hologram stickers (a highly luxurious look).
We can also:
print on rolls (for a wide range of shapes, sizes and materials)
create sticker label sheets (with kiss cut options for easy peeling)
arrange premium protective coatings
offer a range of finishings (ie. PVC gloss, PVC matte and transparent gloss)
arrange luxurious foil stamping and embossing
Ready to upload your sticker design for printing? We'll email you a proof after we've checked your file meets our specifications.
Need flyers, posters or brochures to complement your stickers?
We can help!
Vinyl Sticker Printing FAQs