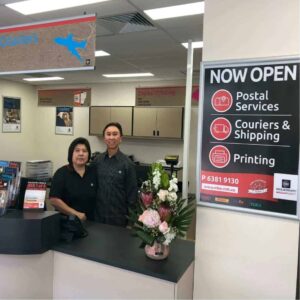 Mail Boxes Etc. (MBE) latest centre in East Fremantle recently opened. The new centre conveniently located on Silas Street, adds to the existing WA centres in the Perth CBD, Northbridge, West Perth, Applecross and Joondalup. With the addition of each centre, comes the ability to collaborate and offer faster, more convenient services.
MBE East Fremantle offers shipping, printing, mail boxes, communication and business support services to business and private customers. New owners Hana and Hartonny Jap have extensive postal, freight and shipping experience, having previously owned an Australia Post store. Their backgrounds, combined with extensive training completed at MBE Head Office, are set to ensure customers receive expert packing and freight advice.
MBE's business service centres are owned and managed by hand picked entrepreneurs and supported by an experienced team. The unique MBE franchise model offers multiple income streams, making it an extremely attractive franchise choice.
MBE Australia is celebrating its 25th anniversary, with the first centre opening in Neutral Bay in 1993. MBE Australia is a trusted and innovative service provider with over 2500 centres globally. The MBE #PeoplePossible campaign conveys the global MBE vocation of continuously finding new tailor-made solutions to meet customers' daily challenges.
Despite the slow economy, particularly the franchise industry, MBE continues to grow to meet the rising pack and ship demand. The MBE franchise department are currently experiencing high levels of interest and have plans to open a minimum of six new centres in 2019.