Eye-catching signage for shops & businesses
Effective, eye-catching signage is an essential aspect of a flourishing shop or business.
Attention-grabbing signs are ideal for letting people know your store or company is open, sharing the details of what you do, or telling passers-by about your sale, to name a few.
At MBE, we specialise in shop front signage and indoor and outdoor business signs including awning and fascia signage, window signs, A-frame signage, banners, decals and vinyl sticker lettering, and more.
We have more than 35 business centres nationally and we aren't just print experts; we can also help design custom quality signs that support your business or store to grow and thrive.
MBE. High quality service, fast turnaround times.
Let us sort your shop or business signage today.
Signage for new & existing businesses
Retail and business store signage can play a big part in creating brand awareness, and that's a key factor in supporting you to boost your profit!
So, whether you're running a bike, antique, bottle, retail, repair, coffee or pet shop or you're a mechanic, jeweller, tattoo artist or barber, MBE can help your store get noticed.
Our team members make the sign creation process simple for businesses and shops. Why not draw on their expert knowledge to help guide you through getting your durable signs up on site?
We can design and print thanks to our end-to-end service so contact us now.
Given how important signs are, it's essential they are created with skill; they need to be striking while also clearly communicating your message.
The design will need to carefully consider:
the font used
the size of your lettering
how to best incorporate your logo
what type of material you need to print on ie. does it need to be waterproof?
the locations on your building that will work best
the look and feel that will best connect with customers and clients
how to maximise the space on your sign
how to erect and secure your signage
what sort of imagery will catch attention
What is ideal for retail shops is different to the signage that works well for service-based small businesses and large companies.
Can't drop in to your local MBE store to collect your signage? Let us arrange delivery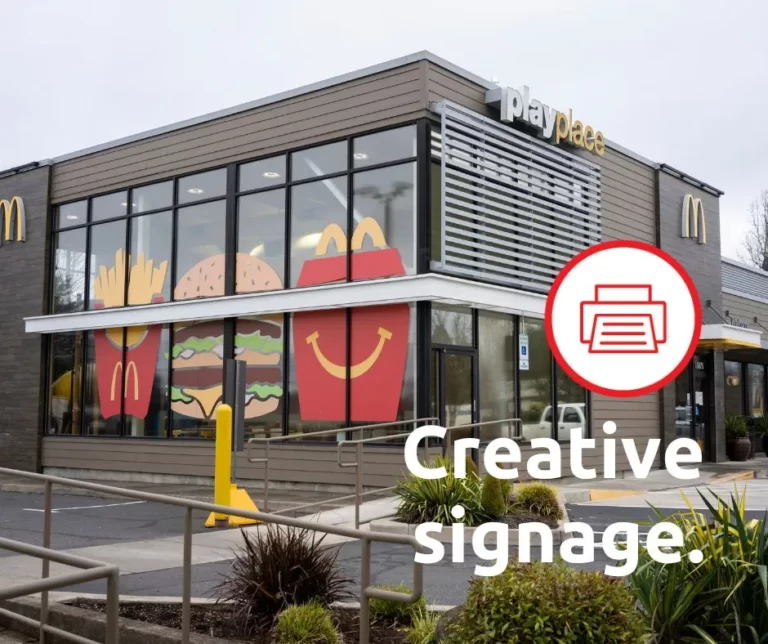 Signage types for shops & businesses
MBE has a range of versatile and highly visible signage options to suit any building, location, surface and brand.
If you don't see what you're after, contact us and ask; we can work with you to create what you need.
Shopfront signs
Making a splash  – the right impression is key with shopfront signs.
From fixed heavyweight banners to contour cut signs, secured metal signs and more, we can help you with your large format outdoor shop signage.
We understand weatherproof materials and are happy to advise you on what will suit your company or store and last the longest in the environment you're in.
Awning and fascia signs
These signs help your business stand out from competitors and often literally stand out from your storefront!
They usually feature digitally printed graphic signage embedded into metal framing and often combine key words with captivating imagery to ensure customers quickly understand who you are and what you do.
Window signage
No matter how big or small your glass area is, window graphic signs are perfect for communicating new products, sales, or new opening hours to potential clients and customers.
From wallpaper and mural signs that cover the full window space to advertise your wares while also providing internal privacy, to window frosting, hoarding, decals and lettering signage that complements your window display. Windows are underutilised but highly effective signage spaces!
We can recommend the best type of vinyl or laminate to suit your space.
Moveable signage
We offer a huge range of big, bold PVC banners, A-frame metal signs, reception signs, lightweight flag/teardrop banners, pull up banners, and  mesh banner signage that can be moved around your shop or business as needed.
If you have a signage vision for your small or large business, repair or retail shop, contact us now.
Wayfinding & directional signage
If your business requires signage to help clients find their way around your premises, we can help. We also specialise in company safety and information signage to help you meet your legal requirements.
Have a file to upload?