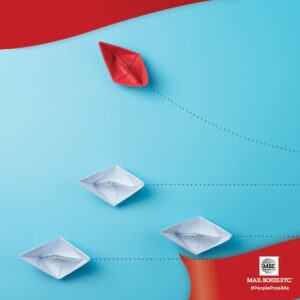 You've opened your doors on your first day of trading. You expect to see customers flood in. That trickle of people – appearing in ones and twos over the next few weeks – isn't what you had in mind. Don't the wider public know about all of the time and effort you've put into perfecting your services? Don't they understand the years of experience which have gone into making them just right?
In short, no. They don't. Because you haven't told them. That's where your sales and marketing departments (even if that's just you in the beginning) come in. Without them, your business is going to start to choke…
1) Use all the marketing channels which are right for your business
Each industry has different marketing channels which work best. Do you know what works with yours?
Online local search
Paid online advertising
Email marketing
Direct sales calls
Direct mail marketing
Physical advertising like billboards
Newspaper and magazine advertising
Television or radio advertising
Social Media and LinkedIn
Do your research and find out if you don't already know. Even if you're sure, you need to do one important thing with all of your marketing:
2) Track your spend
Which channels are right for your business? The most important metric will always be the value for money you get from every unit of currency you put in. There are a couple of things you need to do to do this effectively:
– Decide what your goals are for your latest marketing campaign (even if that goal is "get more customers").
– Choose goal metrics which have numbers involved (nothing vague like "raising awareness") so you can actually track how successful you're being.
3) Do you go big or keep it local?
The online local search has rapidly become the king of "how to get found" for small businesses. This will vary by your industry. But, increasingly, if you're not getting found by people near to you searching for your type of products or services online – you're not getting found at all.
This makes big (and usually very expensive) national marketing campaigns a thing for much later down the line. The one exception might be if you're a franchisee. Most franchise owners will take at least some of your marketing out of your hands, meaning you get out ahead. MBE, for example, lets the people who have gone in for one of its franchise opportunities handle their own local marketing. But they also run national-level campaigns which promote their entire network.
If you're not a franchise owner, you don't have the power of a network behind you. This means you'll almost certainly want to keep things local in the beginning.
4) Network
It's such an important part of building your client base that it often gets talked about on its own. Building a local network gives you a whole bunch of locations where you can promote what you do.
Try to spot the local companies which would make a natural fit with your services. Go in and say hello. It doesn't have to be more than an exchange of brochures or business cards. But it could lead to a whole lot more.
5) Work at it
Those big brands didn't get big overnight. It took most of them years of hard graft and effort to get to where they are today. Don't expect to be an instant overnight success.
Work at it. With the right supply of sales and marketing, you'll get there.