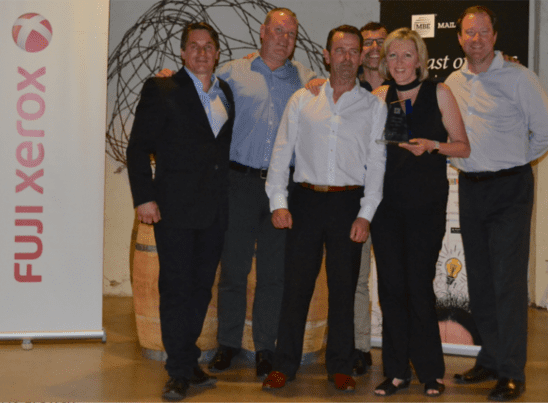 Global franchise Mail Boxes Etc. Australia (MBE) recently held their annual national conference 'A Feast of Ideas for Business Growth' in the Barossa Valley. In attendance was international guest Giuseppe Bergonzi, General Manager Worldwide Development MBE Worldwide S.p.A. and globally recognised premier keynote speaker, Mark Carter.
Platinum sponsor Fuji Xerox presented an informative talk on 3D Printing in the Franchise Space, which was backed by the demonstration of a 3D printing machine. MBE is excited by this unique technology, seeing many benefits in its variety of applications. Incidentally, MBE Brisbane CBD was the first printer in Brisbane to offer 3D printing services and supplies.
CEO MBE Australia , Clayton Treloar presented the 2017 Australian Franchise of the Year award to Lyn and Steve Murphy of MBE Melbourne CBD. The centre achieved 4% growth year-on- year, had the highest average score in centre visits plus a well rounded business model utilising all three key revenue streams. The Murphy's are true team players willing to share knowledge who always attend state meetings and conferences. They consistently follow the Marketing Action Plan plus other MBE guidelines and are ideal employers with low staff turnover. The Murphy's also scooped the 2017 Franchise of the Year Victoria Award and a Bronze Sales Award.
With marketing strategies spread across various platforms accessing multiple databases, in addition to attending all Franchise and Small Business Expos, MBE are positioning themselves to achieve a target of recruiting 6-8 new franchise partners over the next 12 months.
Global retail network MBE has been established for over 30 years internationally and 20 years in Australia. With over 1,600 service centres worldwide and over 30 across Australia, MBE is the only national provider offering business service centres in design, printing, shipping and mail boxes under the one roof.
Bronze Award:

MBE Kent Street

MBE Milton

MBE Currumbin
Silver Award:

MBE Eight Mile Plains
Gold Award

MBE Parramatta
Franchise of the Year – State:

NSW/ACT – MBE Kent Street

QLD – MBE Stones Corner

WA/SA – MBE Perth CBD
Franchisee Choice Award:

Charles Batt – MBE Parramatta
-ENDS
Caption: From L-R, Alistair Percy, MBE Australia Board; Steve Fisher, Fuji Xerox; Steve Murphy, MBE Melbourne CBD; Giuseppe Bergonzi, MBE Worldwide; Lyn Murphy, MBE Melbourne CBD; Clayton Treloar, CEO MBE Australia.