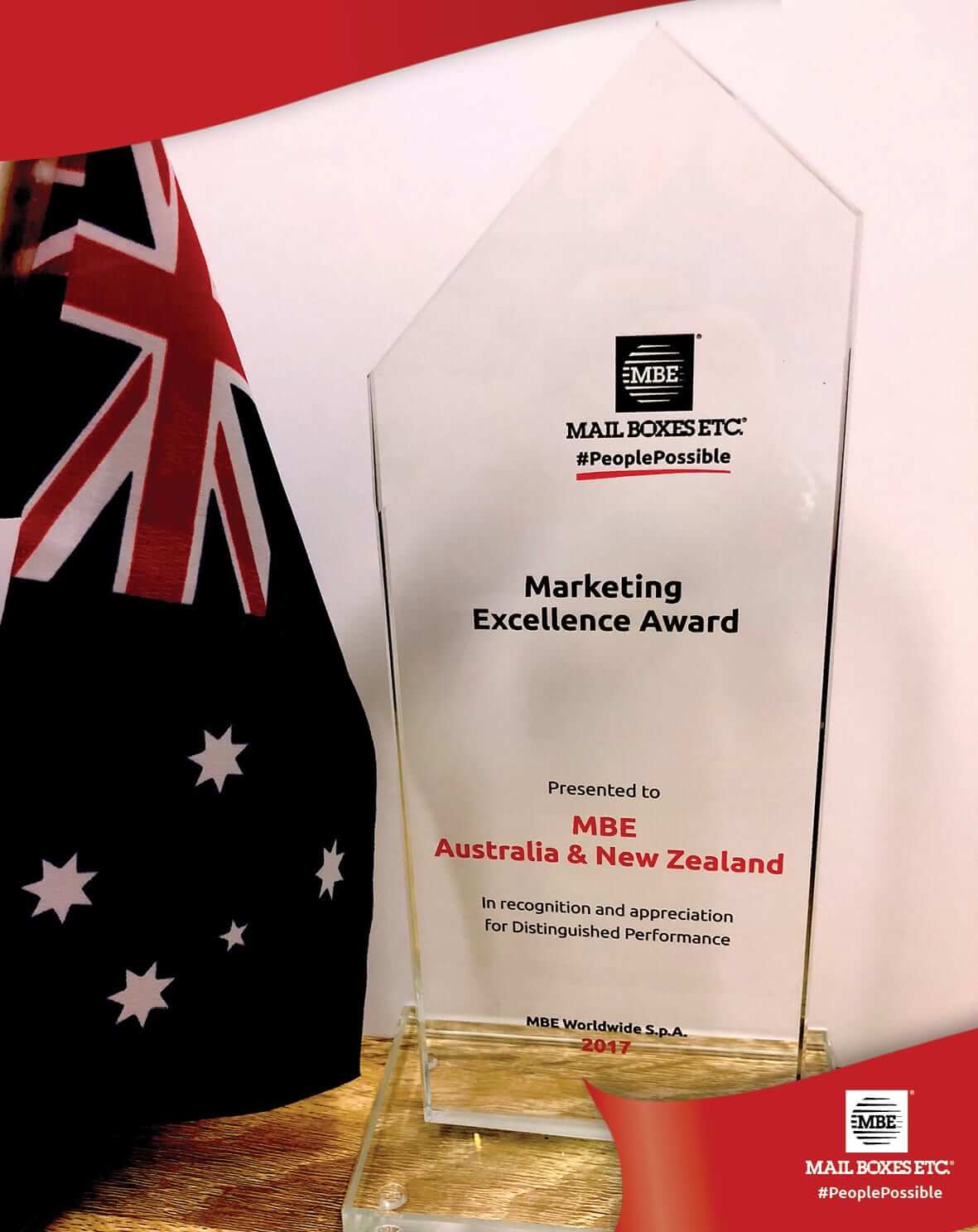 Mail Boxes Etc. (MBE) Australia has once again taken out the prestigious global Marketing Excellence Award for 2017, defeating thirty-one other countries. This prestigious accolade forms part of the MBE Worldwide Excellence Awards Program. The marketing team also took home the gong in 2015, a testament to the outstanding marketing campaigns being produced by the Australian arm of the global franchise giant.
"The Australian team proudly embraces our #PeoplePossible approach and always finds successful solutions to satisfy our customers and provide real value to franchisees, to fellow master licensees and to customers. MBE's competitive advantage revolves around the personal relationships forged every day, in all MBE centres, with each customer encounter and with each MBE family member. Australia's marketing results in 2017 reflect their deep understanding of and commitment to MBE's distinguishing philosophy," said Paolo Fiorelli, Chairman and CEO MBE Worldwide S.p.A..
MBE Australia provides a fully comprehensive marketing system to engage with customers and build brand awareness across multiple channels. Based on regular research, the system includes a unique quarterly Marketing Action Plan. All artwork is specifically tailored for each quarter and supplied, so all the owner need do is action as per a schedule supplied. In addition, franchisees are supplied with an online presence, custom marketing material throughout the year, 24/7 support via the MBE Online Training Academy and monthly webinars through the MBE Business Coaching Program.
Global retail network MBE celebrates 25 years in Australia this month, with the first centre opening in Neutral Bay, NSW in 1993. With over 2,500 service centres worldwide and over 36 across Australia, MBE is the only national provider offering business service centres in packing, shipping, postal, printing and design under the one roof.
Sioux Tempestt
Marketing Manager
Mail Boxes Etc. (Australia) Pty Ltd
Suite 202, 54 Alexander Street, Crows Nest NSW 2065
P: 1800 556 245 | M: 0417 677 981