The holiday season is more than just a time for festivities and joy—it's also a prime opportunity to strengthen your business relationships and set the stage for a prosperous year ahead. And what better way to do so than by making a lasting impression with personalised Christmas cards and meticulously crafted 2024 calendars?
Don't wait any longer; take your business to new heights with these bespoke offerings that convey appreciation, professionalism, and a dash of your unique brand charm.
Captivating Connections Begin with Custom Christmas Cards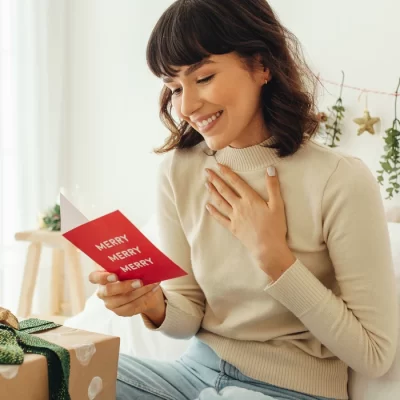 'Tis the season to express gratitude, and what better way to do it than by sending personalised Christmas cards that leave a lasting impression? In a digital age, receiving a physical card stands out and demonstrates the thoughtfulness that your brand embodies.
Our selection of Christmas cards are designed to resonate with your clientele, no matter their preferences. Customisation options are endless – you can include your logo, a heartfelt message, or even opt for a hand-written signature for that extra personal touch.
Why Christmas Cards Matter for Your Business
Forge Stronger Connections: Sending Christmas cards shows your clients that they're more than just customers; they're valued partners in your journey. 
Enhance Brand Recall: A thoughtfully designed card with your logo and brand colours reinforces your brand identity and ensures you remain top-of-mind.
Stand Out from the Digital Noise: In a sea of emails and digital greetings, a physical card creates a tangible connection that's hard to forget. 
Build Lasting Impressions: Personalisation goes a long way. Tailor each card to your recipient, and watch how it deepens your professional relationships.
A Year-long Showcase of Your Brand
As you bid adieu to one year and usher in another, consider the power of a finely crafted calendar. It's more than just a tool for tracking dates; it's a canvas to tell your brand story, showcase your products, and deliver your message every day of the year.
Our 2024 calendars are designed to be functional and visually captivating, ensuring they find a place on your clients' desks or walls. Choose from a range of styles, whether it's a sleek minimalist design or a vibrant display of your own brand's vibrancy.
Why Calendars are a Must-Have Marketing Tool
365 Days of Visibility: A calendar that's prominently displayed means your brand is visible every day, ensuring that your business stays top-of-mind.
Tailored Brand Story: Each month can tell a different aspect of your brand story, showcasing products, values, and milestones
Practical and Appreciated: Calendars are a practical gift that your clients will genuinely appreciate, making them more likely to remember your brand when making purchasing decisions.
Cost-Effective Longevity: Unlike many marketing efforts that fade quickly, a calendar lasts all year, providing ongoing value and exposure.
Don't let the opportunity slip through your fingers—this is your chance to make a powerful statement and foster meaningful connections with your clients. Whether it's through the warmth of a Christmas card or the year-long engagement of a 2024 calendar, our products are designed to resonate with your audience and reflect the essence of your brand.
Let your brand shine through with our 2024 calendars that tells your story day by day. Choose images that represent your brand to connect with your clients on a deeper level, and enjoy the lasting benefits of these timeless marketing tools.
Order Now and Unlock the Power of Personalised Marketing
Time waits for no one, and the holiday season is approaching faster than you think. Place your order today and experience the difference that custom Christmas cards and calendars can make for your business success. Don't miss out on this chance to impress, connect, and thrive.
Ready to Elevate Your Brand? Contact Us Today!
Are you ready to take your business to the next level this holiday season and beyond? Contact us now to discuss your requirements, explore customisation options, and place your order. Let's create a lasting impression together.