Quality Custom Stickers Brisbane
MBE: Experts in Brisbane Stickers
Need custom stickers for branding that help you stand out? Labelling stickers to meet your legal requirements?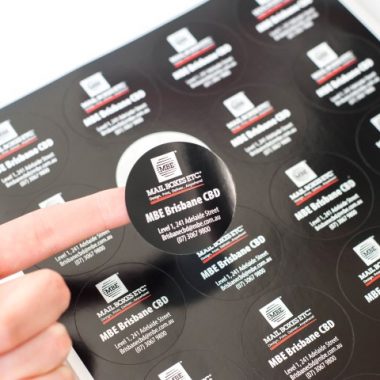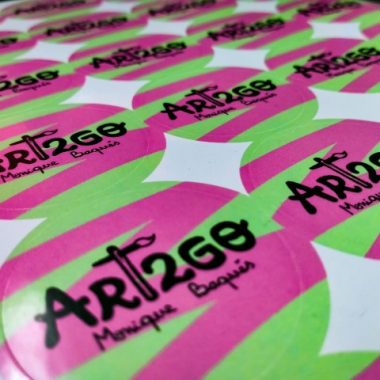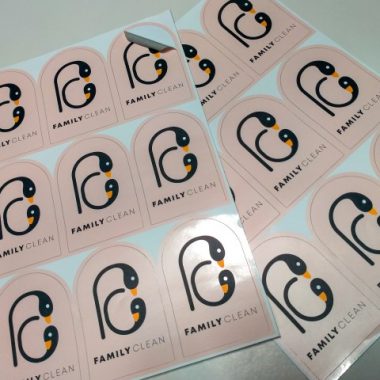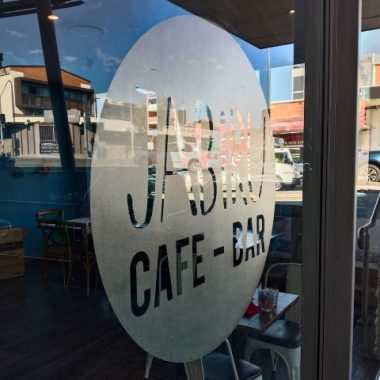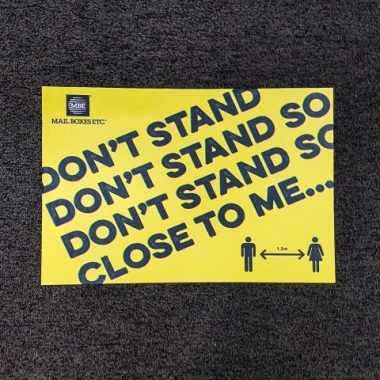 Quality customised vinyl stickers aren't just a fun addition to van and car bumpers – they're a brilliant marketing and branding tool, offering a chance for your business to make a great impression and attract customers quickly. From a pretty personalised sticker placed on a cake box to an essential product usage label, stickers are one of the most versatile business promotional tools.
MBE Brisbane CBD is home to the city's best sticker printing experts.
Our reliable and efficient Brisbane sticker shop printing team includes graphic design and printing specialists to guide you through the process. We can help create your sticker design and recommend the right size, shape, material and colours to ensure your business meets its Brisbane sticker needs ideally.
We're based in Brisbane Club Tower (northside of the Brisbane CBD), a short walk from anywhere in the central city, and are open 9 am to 5 pm Monday to Friday. If you can't get to us, we can deliver.
We can print just one sticker for you – or rolls of up to a thousand and anywhere in between – so get in touch now, whatever your needs.
How much does Brisbane custom sticker printing cost? Ask us.
Brisbane Stickers For A Business Boost
Branding & Decorative Stickers
When used for marketing and decorative purposes, the key aim of custom stickers is to help your brand stand out and present well. They're ideal for:
Promotional gift
bags/boxes/jars
Invitations/envelopes
Sealing packaging
Water bottles/drink bottles
Computers/cases/bags
Labelling & Information Stickers
Demand is also high for customised Brisbane print stickers designed to be used as informative labels. These may still feature a logo and name but often also include;
A website/physical address
Phone number
Ingredients list
Opening hours
Product usage information
Warning/allergen details
We also do windows, signs and floor decals and die-cut lettering stickers. Ask us now.
Planning Your Brisbane Stickers
What you need your personalised printed sticker for will impact the specifics of your sticker project.
Things to think about include:
What size should my printed sticker be?
What colours should be used?
What material is best, i.e. paper, vinyl etc.?
Does my sticker need to be waterproof?
Should it be transparent or opaque?
Is matt or gloss finish better?
Do they need to remove?
What surface will they go on?
Will they be put into a freezer?
It may be possible to print custom stickers at home. However, our industry expertise and advanced printing technology mean we offer a full range of custom sticker options – and can work to tight deadlines on most Brisbane sticker printing projects.
Need help? Contact us now.
File print-ready? Upload it, and we'll check that it prints correctly and with the right colours.
Enhancing Your Sticker Campaign
Marketing works best when a brand is consistent.
If you need a new business card, poster, brochure or price list booklet to accompany your custom Brisbane sticker, we can help.
For efficiency, quality and expertise, print locally with MBE Brisbane CBD.
Custom Stickers Brisbane FAQs
We are experts in fast printing turnarounds, but it will depend on your sticker. We have many same-day options that can fit your requirements. Check with us.
Yes. Talk to us now about your specific project.
Most of our labels, stickers and decals have no minimums! Contact us now.